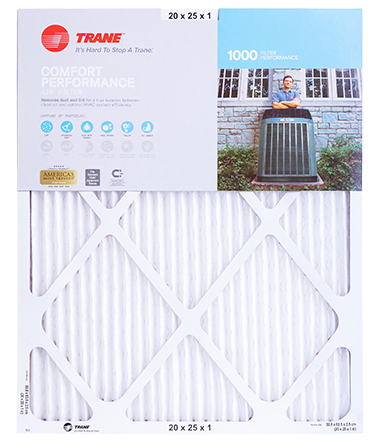 Cleaner, healthier and fresher indoor air

Save 5-15% on your monthly energy bill1

Extends the life of your Trane HVAC system

Reduces dust, pollen and spores

May reduce allergy and asthma symptoms

Better maintain the internal temp of your home

Helps with pet dander
TRANE AIR FILTERS
TRANE AIR FILTERS, from America's Most Trusted® HVAC System with more than 120 years of experience.
Regular air filter replacement is essential for homeowners to maintain their indoor air quality and protect their HVAC equipment—yet this critical task is often forgotten. It's no wonder "dirty filter" is reported as one of the top reasons for an HVAC service call. Trane Filters powered by FilterTime™ makes life easier and eliminates the hassle by delivering high-performance filters straight to your doorstep. Learn more about Trane's other indoor air quality solutions and the benefit of a whole home air purification system.
*America's Most Trusted®: Trane received the highest numerical score in the proprietary Lifestory Research America's Most Trusted® HVAC Brand study for 9 years, 2015-2023. Study results are based on experiences and perceptions of people surveyed. Your experiences may vary. Visit www.lifestoryresearch.com.